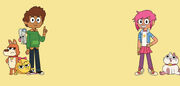 Season 1 of Boy Girl Dog Cat Mouse Cheese, a American-French-Irish animated children's TV series, was ordered in 2018. Episode 1 aired on October 31, 2019 on CBBC in the United Kingdom. On January 6, 2020, the series premiered on Family Channel in Canada. It has 52 episodes consisting of 11 minute format for each episodes. In June 2019, the series was renewed for a second season. In France, it premiered on Gulli on May 23, 2020. In the United States, it premiered on Apple TV+ sometime in 2019/2020 with two 11-minute segments. It premiered on Deakids in Italy late 2020.
List of Season 1 Episodes
UK and Canada
USA
In the United States, this season contains two segments.
List of Season 2 Episodes
Trivia
References